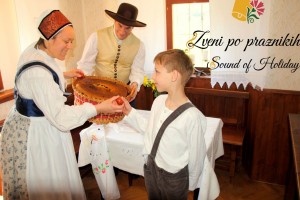 With the Sounds of the Holidays project, we want to preserve our cultural heritage and spread it to people of all ages. In order to bring it closer to the youngest, a beautifully illustrated book called I'm a Musician was created. It is available both in the Slovenian and English version. The author of the picture book is Petra Benedičič, who is at the same time a member of the team that creates the Sound of Holidays.
The simple story of an adult reader reminds the child and teaches the child about intergenerational relationships, humble and intangible gifts, and the importance of time spent on each other. With the folk song I am a musician, a child learns musical instruments, at chorus lessons he creates voices and in illustrations he counts. The illustrations show the old homestead where the Sounds of the Holidays project takes place, the musical instruments played by our musicians and the costumes of the participants, dating back to the time of France Prešeren.
The picture book I'm a Musician will be presented on Saturday, 14. 12. 2019 at 16:00 in Infocenter Triglavska roža, Bled.
Available dates
14. 12.