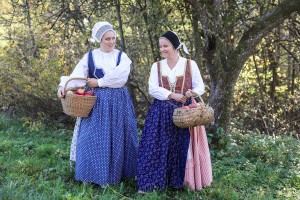 Clothing
Because the holidays were something special, people had special clothes for those occasions. At our events (except for events that are tied to farm chores), we as the hosts of the experience wear "the original", holiday clothing from the first half of the 19th century (Prešeren's time). Each dress is handmade and unique. The garments used to be made from home goods and leather. Linen and cloth were spun and woven from home produced raw materials. In the design and production of clothing, we have liaised and consulted with Dr. Bojan Knific, one of the greatest connoisseurs of clothing heritage in Slovenia.
The women's festive dresses which we wear during the show ourselves consist of two or three skirts, underskirts, pants, red cotton socks, leather shoes or boots, and white linen shirts embellished with ornamental ribbons on the collar, shoulders or sleeves. The bodice is made of colored fabric (wool or patterned linen) and the upper part is made of decorative fabric and decorated with velvet, gold or silver ribbons. One of the dresses has a green silk ribbon sewn on the lower skirt, which was characteristic of the period. The girls have an embellished head piece on their heads. The housewife wears the most precious fashion accessory around her waist – an embellished brass chain with the key to the house front door.
The men's festive clothing in which we present ourselves consists of over-the-knee boots or low boots, blue socks, leggings of woolen or leather, and a linen shirt with ornamental ribbons. Vests differ in tailoring and buttons and are made from different patterns of velvet, red wool or decorative goods. The two dresses also feature a blue and red woolen belt. The hats come in many shapes and colors with a large edge.
Work holidays will be shown in work dresses from the late 19th century. They are simpler, very colorful, made out of different types of materials.