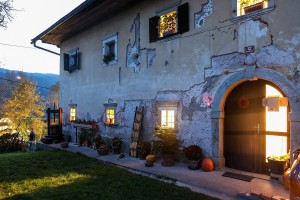 Our experience is based on the presentation of Slovenian cultural heritage, connecting the countryside and cuisine. This way, visitors can experience something new, unique, memorable and boutique. Over 500 years old house in Bodešče near Bled meets 1800s – France Prešeren time.
Guests are invited on the tour of the house by the master and the lady of the house and the rest of the people living there, which gives guests a sense of relaxation and feeling like a part of the family while the holiday atmosphere reigns through the house. Guests will listen to and sing traditional folk songs, dance traditional dances and experience festivities in the Gorenjska region, rounded off by a garment from the time of France Prešeren (first half of the 19th century).
Everyone will get to enjoy homemade meals and drinks. We will enrich the festivities with stories and events of the Bled region. The whole event will take place in an indigenous atmosphere from this time period, and guests will actively experience the holidays, each in their own way.
The event calendar provides information for individual events. If you would like to organize an experience for a closed group of people, please contact us and we will tailor the offer to your wishes.
The holidays are here! Come visit us.